Applying Habit Routines & Agile Scrum Concepts to Job Search! (JDNG)
April 18 @ 12:10 pm

-

1:00 pm

Free
April 18th Topic: 

Applying Habit Routines & Agile Scrum Concepts to Job Search!
Presenter: Paul Cameron, President of DriveStaff and Founder of SpeedUpMyJobSearch.com

Are you making the progress you hoped for in your job search? Ever thought, "I know what to do, I just can't make myself do it!"? It's time to get it done! I've combined select pieces of 4 philosophical approaches to productivity and life into a single career productivity system, and on Thursday, I will share it with you!
After years of adding more and more courses into SpeedUpMyJobSearch.com covering every detail of the job search process, I've come to realize that the program doesn't need another course, it needs a productivity system and mental approach to persevere through the process.
Although this will be the new structure for my program, removing the 27 courses and replacing them with a simple 3 step system with On-Demand access to the individual lessons embedded into my Trello pipeline system, on Thursday I'll be sharing the whole strategy with you. Join us to re-energize your efforts and get more results faster.
---
What are the 4 approaches I'm drawing from?

1. Habits
Scientists have proven that we are completely dependent on our habits to survive, and that often they are so deeply ingrained in us that we can't help but repeat them. However, they have also proven that we can reprogram them into GOOD habits to help us achieve our objectives. 
— Inspired by the book, "The Power of Habits", by Charles Duhigg

2. Agile Scrum
Agile Scrum was developed as a project management framework for software development teams allowing them to quickly adapt to constantly changing requirements. However, its applications are far-reaching. Although Scrum is for teams, not individuals, there are 2 concepts I've found to be effective for individual job search plans and daily habits. — Inspired by the book, "Scrum: The Art of Doing Twice the Work in Half the Time", by Jeff Sutherland

3. Probabilistic Analysis
Frankly, this is the primary methodology behind SpeedUpMyJobSearch.com currently, I just didn't know it had a name. It's the process of turning hopeful outcomes into statistical estimates, selecting the option with the highest probability of happening, and then purposefully manipulating the odds to maximize your chances of success. — Inspired by the book, "Smarter, Faster, Better" by Charles Duhigg

4. Faith
I realize this is where some people might get off the train. However, faith can be instrumental to your focus and perseverance through challenging endeavors, so we shouldn't be afraid to talk about it. There is even scientific evidence showing how faith in a higher power can be the primary variable to successfully persevering through a major life challenge. This won't be a theological debate about religion, I just want to share some data, backed by research, about how faith can be an important part of this journey. As my friend Joy Maguire-Dooley likes to say, "Hire a Higher Power; you don't have to do this alone."

All Together (I still need to name this, can't seem to make a good acronym out of HAPF)
Through all of our career endeavors, if we could deliberately establish productive habits, yet stay agile enough to continue improving them as we work the odds in our favor, we can fulfil our destinies as we were intended to. Let's start that journey on Thursday.

This meeting could spark some conversations and questions, so it may run longer than our normal 40 minutes. 
---
Jobs Driven Networking Group, Wheaton, IL
Find job leads ● Find future employees ● Expand networks ● Sharpen skills
---
Meets: 3rd Thursday every month to discuss networking tactics and search strategies. 
Location: 120 W. Wesley St., Wheaton, IL 60187 – The lower level of the Wheaton Masonic Building 
NOTE: There is a lot of construction downtown Wheaton, so give yourself time. Parking options are below.
Meetings are FREE to attend thanks to our sponsors: SpeedUpMyJobSearch.com & Wheaton Lodge 269.
Video recordings of every presentation will be available to all members of SpeedUpMyJobSearch.com.
RSVP is not required, but highly encouraged and sincerely appreciated.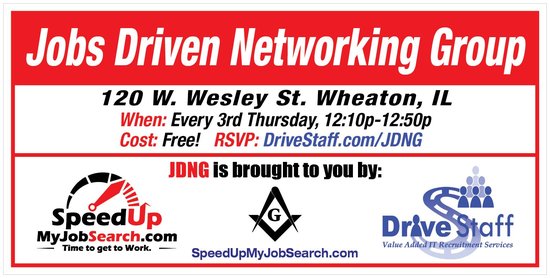 FAQs
Who should attend this event?
Anyone who would like to strengthen their networking skills and expand their professional networks.
What should I bring?
Bring a notebook/pen to take notes, and if you have business cards and handbills, please bring them. Also, this is cafeteria style room with lunch tables, please feel welcome to bring lunch to eat while listening to the presentation. We will not be serving food.
Where can I contact the organizer with any questions?
Paul Cameron can be reached at [email protected], or 630-941-3748 ext. 114
Do I have to bring my printed ticket to the event?
No, bringing your ticket is not required.
What are my parking options?
There is a free (but small) parking lot connected to the building, free parking on the street, and a very large parking garage with 300 free parking spots one block West on Wesley St.
If the Mason parking lot is full (it usually is), then exit the lot, take a left, go to the next block and take a left to the lot. The arrows below animate this exciting journey to the big parking garage.
It's 3-minute walk away, a 5-minute stroll, and 10-minute meander. Go at your own pace. See you Thursday!